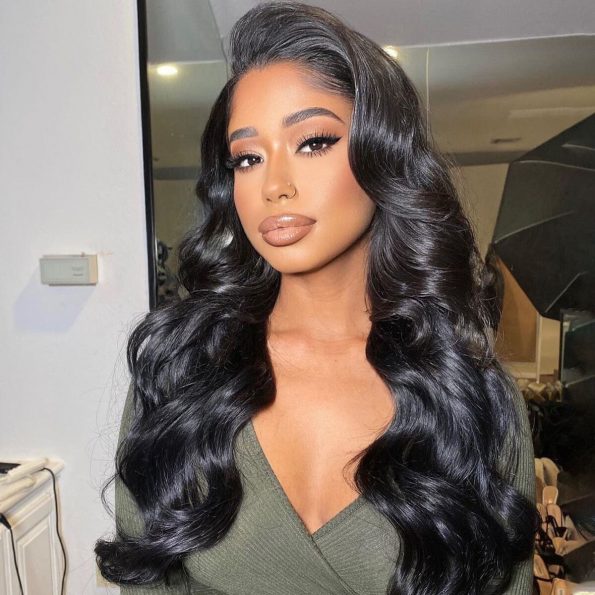 The HD lace wigs have been launched for quite a long time. They are loved by a lots of ladies and used in movies and stages. We have received many inquiries from customers about the human hair HD lace wigs, such as what is HD lace wig? How to put on the HD lace wig? How long does the HD lace wig can be worn out? There's more. Next, I will list some questions and we will give you the answer one by one.
What does HD Lace mean?
HD lace closure is also called high-definition lace, once known as Swiss lace, which is invisible when applied to scalp. HD lace is a brand-new type of lace material, which is lighter, softer, more exquisite and appears more invisible than ordinary lace. This ensures that you can have an exposed hairline, which will looks very natural and makes the lace height along the hairline imperceptible.
What is a 5×5 HD lace wig?
5×5 HD lace closure wig is made of 100% virgin human hair. It uses 5×5 high-definition lace closure, and uses hand-woven technology to tie hair one by one on the small holes of the lace net.
It is thinner and fully dissolved in the scalp, which makes it less conspicuous and your hairline less conspicuous. HD lace wigs use lighter and softer materials to make them more comfortable, non-itchy or non-irritating.
Preparations you need do before installing the HD lace wigs.
To prepare for installing HD lace wig, you need to make sure your hair is as flat as possible. No matter the texture, thickness and length of your hair, you need to braid them.
Wear a wig cap.
Before you begin to put on the wig, put a wig cap (real skin color) on your head, and then put on the HD lace wig.
Cleanse the skin.
Use alcohol to remove the oil or grease on your skin. Next, dip some rubbing fluid on the cotton ball, and then wipe it your hairline. If your skin is sensitive, then you may want to apply scalp protection serum after using alcohol.
Secure the wig.
Put the HD lace wig on your head so that it is aligned with your natural hairline. Adjust the position and fix the wig with the inner clip. Make sure you feel comfortable and natural around your scalp, not too loose or too tight.
Trim the HD lace part.
After the wig is installed correctly, trim the excess HD lace. Trim the lace with scissors along the natural hairline. You need to leave about 3mm of lace to create a natural hairline.
Hairstyle design.
Most wigs have styles. However, you can also cut and style it yourself to change it Deep Wave wig. If you want to know more about wigs, Example glueless wigs, please pay attention to Celie hair.